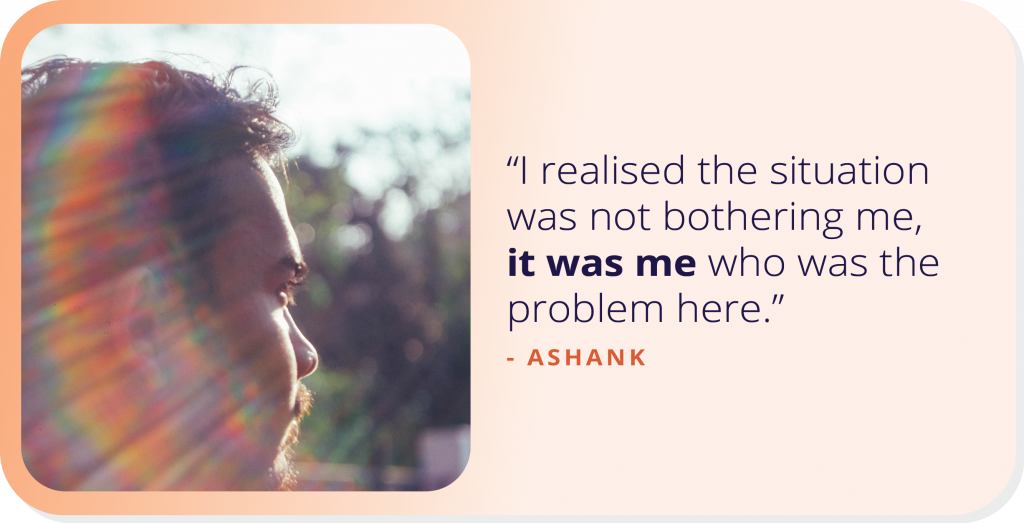 Ashank is a younger 26-yr-old man belonging to a city referred to as Sagar in Madhya Pradesh, the place he stays together with his youthful sister and fogeys. He has accomplished his commencement in BTech from Delhi and is at present pursuing his MTech from IIT Delhi. 
He significantly enjoys spending time with nature, taking walks within the greenery, and in addition immerses himself in studying books on spirituality and psychology. Practising yoga and meditation are further actions that he follows recurrently in his routine. 
In any other case a really calm and composed individual and really well-versed within the Vedas and the idea of the physique, thoughts and self. 
Nonetheless, his anxiousness started coming in the way in which of unlocking his true potential in his day-to-day functioning and this bothered him rather a lot. 
"Stepping out to purchase milk or to go to retailers to get one thing was getting exhausting for me. I used to be additionally in between altering jobs at a time and that's when my anxiousness soared. I'd usually really feel my coronary heart price rising and many sweating after that."
Ashank remembers that these bodily sensations had been the aftermath of his anxiousness episode and had been prevalent from his childhood days. When he was a toddler he couldn't recognise these indicators however as he grew he realised that it's a profound drawback. 
Social settings the place he must introduce himself in a classroom or reply questions associated to his topic at school had been terrifying and he would usually discover methods to keep away from them. In such occasions, his coronary heart price would enhance and his mind would flip foggy, pushing him to show numb or clean within the state of affairs. 
He began withdrawing from social interactions and solely stepped out when there was no different various to the state of affairs or wherever it was a necessity. His anxiousness haunted him to suppose clearly and make right choices for himself. 
"I recognised these indicators and got here to an understanding that I used to be struggling like this for no motive. I wanted an escape. I wanted to develop into higher at who I used to be."
Ashank reached out to YourDOST by way of IIT Delhi's affiliation with the platform. 
He had skilled just a few counseling periods earlier than coming to YourDOST and so he was not stigmatised in the direction of the method of remedy and counseling. 
Protecting an open thoughts and a contemporary slate, Ashank began his first session with YourDOST with full transparency and a robust will to enhance himself for a greater future.
Poulomi and Shilpa had been his counselors who helped him to find his origin of hysteria and all his triggers. 
Poulomi was following the common movement of dialog, one which I had been in with my earlier counselor. However with Shilpa the strategy was a bit extra organised and strict."
Shortly after Poulomi left the platform, Ashank was related with Shilpa. He predicted the overall movement of his periods however took them extra severely due to Shilpa. 

Plenty of strategies and actions had been beneficial to him. These included the JPMR approach for his bodily sensations, respiration strategies to ease his anxiousness and filling in customised response sheets to observe his reactions in varied conditions.  
She was devoted to following up on his progress and the way doing these actions made him really feel or if he was practising them recurrently or not. 
Other than the above-mentioned strategies, Ashank personally obtained launched me to the world of spirituality and psychology. Studying books on the mentioned subjects gave him a greater perception into the human thoughts and physique, and a better degree of understanding of human feelings. 
This was a real turning level in his life. 
"Together with my counselor, we had been ready to determine the foundation reason behind my issues, which was my ego."
Pondering over his issues and attempting out completely different strategies to calm the storm inside, Ashank and his counselor unlocked probably the most treasured reply to his problem. 
Ego. His ego was the results of his bodily sensations. The way in which he perceived himself within the eyes of others was in a adverse gentle and this bothered him each time he discovered himself amongst folks. 
Understanding the dynamics of his ego, he was capable of grasp management of it which led to constructive adjustments in himself. He was capable of management his coronary heart price and began feeling rather more relaxed. 
"There have been occasions after I wished to speak to my counselor instantly, however now I'm able to management that urge and never fully depend upon her. I'm so grateful that she is part of my life. She is a fully wonderful therapist."
Ashank holds out immense respect and admiration for all of the folks working within the well being business and principally psychological well being professionals. His will to enhance and his counselor's promptness stored him going. 
At this time he is able to exit and enter new social gatherings. He feels rather more assured about interacting with folks and being in unfamiliar locations. 

He rated himself 3.5 out of 5 by way of getting higher as he believes it's a lengthy course of and he's going to be on this journey till the very finish. 
He's assured. He's poised. He's Ashank who we're tremendous happy with.
Ashnak's Warrior Ideas:
1."No one is flawless and doing one thing superior 24/7. Everyone has their very own share of issues. Don't deem your issues small."
2."If you may get to the foundation reason behind your drawback then you'll be able to select to appease your struggling."
3."Why hesitate to seek the advice of an expert on your psychological well being points? Attempt counseling out of curiosity and see who you actually are as an individual."
window.fbAsyncInit = function() { FB.init({ appId : '694343250666151', cookie : true, xfbml : true, version : 'v2.2' }); };
(function(d, s, id) { var js, fjs = d.getElementsByTagName(s)[0]; if (d.getElementById(id)) return; js = d.createElement(s); js.id = id; js.src = "https://connect.facebook.net/en_US/all.js"; fjs.parentNode.insertBefore(js, fjs); }(document, 'script', 'facebook-jssdk'));
function facebookLogin(event) {
FB.login(function(response) {
statusChangeCallback(response, event); }, { scope: 'public_profile,email' } ); }
function statusChangeCallback(response, event){
if (response.status === 'connected') { FB.api('/me', function(response) { console.log('Successful login for: ' + response.name); }); var base64 = "FB "+btoa( response.authResponse.userID + ":" + response.authResponse.accessToken ); ydLogin.loginThroughApp("facebook", base64, event);
} else if (response.status === 'not_authorized') {
console.log('Please log into this app.'); } else {
console.log('Please try again later. Some error occurred'); } }
(function() { var po = document.createElement('script'); po.type="text/javascript"; po.async = true; po.src="https://apis.google.com/js/client:plusone.js?onload=loadGoogleApp"; var s = document.getElementsByTagName('script')[0]; s.parentNode.insertBefore(po, s); })();
function loadGoogleApp(){
gapi.load('auth2', function(){
if( typeof auth2 == "https://yourdost.com/blog/2022/11/undefined"){ auth2 = gapi.auth2.init({ client_id: '814908618788-85i3vn1p9perd664ghvjv2ci13tms661.apps.googleusercontent.com', }); } attachSignin(document.getElementById('googleLogin'), "simple-login"); attachSignin(document.getElementById('EgoogleLogin'), "simple-login"); elements = document.getElementsByClassName("PdfgoogleLogin") jQuery.each(elements, function(index){
attachSignin(elements[index], "yes"); })
attachSignin(document.getElementById('MobPdfgoogleLogin'), "mob-yes"); }); } function attachSignin(element, isClicked) {
var self = this ; var post_id = ''; if(jQuery(element).parents(".download-wrap").length > 0){
post_id = element; } if(jQuery(element).parents().hasClass("mob-social-login")){
post_id = element; } if(isClicked == "simple-login"){ isClicked = element; } auth2.attachClickHandler(element, {}, function(googleUser) { window.googleInfo = googleUser ; var gUserID = googleUser.getBasicProfile().getId(); var gUserEmail = googleUser.getBasicProfile().getEmail(); var oauthToken = '';//googleUser.hg.access_token ; for( var key in window.googleInfo ){
if( typeof window.googleInfo[key].access_token != "https://yourdost.com/blog/2022/11/undefined" ) {
oauthToken = window.googleInfo[key].access_token; } } var base64 = 'GPLUS '+btoa( gUserID+"__"+gUserEmail + ":" + oauthToken ); ydLogin.loginThroughApp("google", base64, isClicked, post_id); }, function(error) {
console.log(JSON.stringify(error, undefined, 2)); } ); } function resizeImage(div) {
var img = jQuery(div); var divwidth = jQuery(div).parent().width(); var divheight = 0.5*divwidth; img.css({ 'width' : divwidth + 'px', 'height' : divheight + 'px' }) } function resizeFtImage(div) {
var img = jQuery(div); var divwidth = jQuery(div).parent().width(); var divheight = 0.7*100; if(jQuery(window).width() < 600){ divheight = 0.5*100; } img.css({ 'width' : 100 + '%', 'height' : divheight + '%' }) }